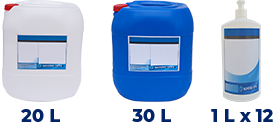 No-Rinse Alcohol-Based Hand Washing Product
It does not require rinsing as it is alcohol-based. It provides hand cleaning without the need for soap and water. It evaporates from the hands in a few seconds after cleaning and does not leave any stickiness. It is compatible with the skin pH. It does not dry the skin.
Usage
2-5 ml is poured on hands that are free from dirt and rubbed until the hands are dry. It is used after washing hands and before starting any work.
Amount of usage
It is used undiluted without dilution.